KASHMIR ON THE BRINK
0 comments | by Um Roommana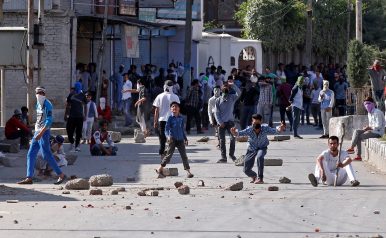 Demonstrators hurl stones and shout pro-freedom slogans during a protest in Srinagar (May 27, 2017).
Image Credit: REUTERS/Danish Ismail
Kashmir on the Brink
But in Tral, in south Kashmir's Pulwama district, many young Kashmiris made a beeline to attend the militant's funeral. Many of them blocked roads and threw stones at the security forces. Anticipating trouble, authorities shut down the internet and prepaid mobile services.
Hizbul Mujahideen commander Bhat was a close aide of Burhan Wani, whose killing in July last year is believed to have changed the narrative of Kashmir's struggle for freedom. Wani's killing triggered months of protest and a valley-wide shutdown. Fortunately, this time the protests subsided after a week but the anger persisted.
Enjoying this article? Click here to subscribe for full access. Just $5 a month.
Describing the situation after Bhat's killing, Gulzar Ahmad, a villager from south Kashmir, told The Diplomat, "It was all chaos. I had gone to Anantnag early morning and walked back more than 20 kilometers to reach home. There was no traffic on roads. The situation was similar that of last year [after Wani's killing]."
Bhat's killing also demonstrated that people's pent up anger and emotions can spark spontaneous protests in the Kashmir Valley. When street protests first began in 2008 during the Amarnath Yatra agitation, they used to last for weeks followed by months of quiet before another summer of protests. But those days are gone; spontaneous stone pelting incidents and protests have now become a daily affair.
It was during those early street protests and the excesses of the Indian security forces that the then-opposition party, the People's Democratic Party (PDP) — now ruling Kashmir in a coalition with the Bharatiya Janata Party (BJP) — had captured people's attention through its "healing touch" policy, by reaching out to the victims of the security forces' abuses. The PDP capitalized on this in the last state assembly elections in 2014, but now people are questioning the hypocrisy of the party and its first family, the Muftis, which have increasingly sought to implement even more draconian policies in order to bring the security situation under control.
"The PDP too failed to bring the good governance. It was considered as trustworthy and the best alternative for the National Conference [the previous ruling party] rule, but nothing much has changed under PDP's rule as well. In fact, matters have become worse," Arshid Ahamd, a PhD scholar, told The Diplomat.
What has complicated the ruling PDP-BJP coalition's challenge is the exponential growth of social media in the Kashmir Valley, which has been adroitly used by the militant recruiters to tap into people's anger and get new recruits. Burhan Wani, for instance, famously used social media to spread his message and rally the people for the cause of freedom. This made him a charismatic leader, popular among the locals, who in any case were getting fed up with no political solution for Kashmir in sight. The increased sympathy for local militants then raised another challenge for the security forces and thereby the ruling coalition.
Unlike the early 1990s ,when people preferred to stay indoors or flee from villages during encounters between militants and security forces, the situation has taken a U-turn today. People, including women, now flock to the encounter sites to rescue the trapped militants by confronting security forces, hurling stones at them, and using loudspeakers to boost the morale of militants by chanting pro-freedom slogans. As a result, many times the trapped militants have escaped breaking the security forces' cordon. In a double whammy for the security forces, there have been civilian casualties during some of these protests at the encounter sites, which tends to further worsen the security situation. Just this week, a youth was killed after security forces allegedly fired to disperse people protesting against a cordon and search operation in south Kashmir's Shopian district on June 6.
This phenomenon has prompted many Indian Army officials to issue warnings to not to go near encounter sites. One such warning came from no less a figure than the Indian Army Chief, General Bipin Rawat, who speaking earlier this year warned that those who try to disrupt anti-terror operations in Jammu and Kashmir will be treated as "overground workers of terrorists" and can be fired upon.
But clearly these warning have fallen on deaf ears in the Kashmir Valley.
People have also been turning out in large numbers for the funerals of killed militants, in order to demonstrate their sympathies. These gatherings have caused concerns in the security establishment as many morph into protests and stone-pelting against security forces. Some militants have also made appearance at these funerals to pay their last respects to their fallen comrades.
Many in Kashmir believe that previously people used to fear gunmen, irrespective of their identities. That's changed. "Earlier, [the] gun was misused for family issues, but now it is purely for the freedom struggle. This has emerged as an indigenous fight in valley," Arshid Ahmad said.
Suhail Wani, an advocate from north Kashmir, told The Diplomat, "The masses of Kashmir have seen only a dark age, especially youth. Now they feel these militants are the only hope to get rid of Indian occupation."
What made matters worse was the "human shield" incident in early May. A local man, described by the security forces as a stone-pelter, was tied to an army jeep by the Indian Army as a human shield in order to fend off stone-pelters while getting safe passage from a troubled area during the Srinagar Lok Sabha by polls on May 9. A video of the incident triggered a row, with many condemning it. But the act was praised by officials, including the Army chief, as an innovative approach to tackle the "dirty war."
"This is a proxy war and proxy war is a dirty war. It is played in a dirty way… That is where innovation comes in. You fight a dirty war with innovations," General Rawat was quoted as saying by Indian media.
This has not gone down well with the locals. "As we have seen from the last few years, security forces are using the pellet guns, tear gas shells, and even bullets to quell the protesters. Now with incidents like human shield, people are getting more alienated and taking up arms or helping militants," Nisar Ahmad, a local from south Kashmir, told The Diplomat.
There is every sign that the conflict is only getting protracted, with fears it may degenerate into civil war.
In a recent message, Burhan Wani's successor, Zakir Musa, threatened to behead the separatist leaders for terming the Kashmir struggle as a political movement. He said that militants are fighting to make Jammu and Kashmir an Islamic state. While Musa's message divided the Kashmiris and the militants, it also sparked fears of fratricide. Pertinently, Musa's message came days after the targeted killing of mainstream political activists and a Kashmiri Indian Army soldier by unknown gunmen.
With people's anger and alienation at a peak, everyone is hoping that the coming summer months do not paralyze the region once again and cause more bloodshed. Clearly the days ahead will be crucial for both the security forces deployed on streets handling the protesters and the PDP-BJP coalition, which is still debating the political contours of how to handle the current crisis.
Um-Roommana is a freelance journalist based in Kashmir.