News
Destroying Houses in Kashmir: A Collective Punishment
Nearly two dozen houses were reduced to rubble in recent encounters, a part of counter-insurgency. The state must answer if support for militancy has dwindled due to this coercive calculus.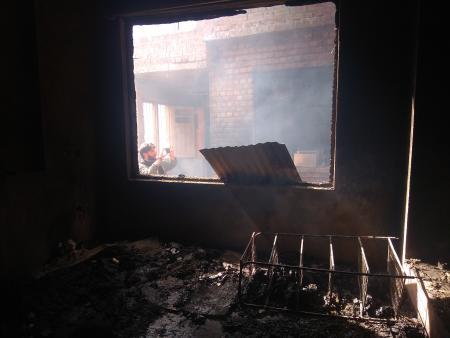 In Kashmir, the destruction of houses and other properties by the state forces during encounters with militants—who are always vastly outnumbered—is a common act. But this unjust policy hardly ever makes news. During these encounters, numerous people are often left homeless and their earnings over a lifetime, along with their sources of living, are smashed to smithereens. The acts of the state are quite akin to those of the Israeli forces in the occupied Palestinian territories. The destruction is often caused by flame-inducing gunpowder, mortar shelling and IEDs.
This has actually been going on since the inception of militancy in the early 1990s, when in some instances entire localities and markets would be burnt after a militant attack. In recent times, the destruction of houses and other private property has again increased disproportionately. The well-known poet Agha Shahid Ali alludes to this burning of localities in one of his poems:
"…From windows we hear
Grieving mothers, and snow begins to fall
On us, like ash. Black on edges of flames,
It cannot extinguish the neighbourhoods
The homes set ablaze by midnight soldiers.
Kashmir is burning."
—The Country Without a Post Office
In two recent encounters in Srinagar and Pulwama, in which two top Hizbul commanders were killed by state forces, nearly two dozen houses and other structures were reduced to rubble. Not only were those houses destroyed in which the militants had taken shelter, but adjoining houses too, for example in the encounter in down-town Srinagar, which took place in a very densely-populated area that has many old buildings. The tragic aspect is that some houses collapsed as a result of the shelling although they were some distance away from the encounter site. This resulted in the death of at least three persons including a minor besides leaving dozens of families homeless. Imagine the plight of these homeless people living in makeshift structures in unhygienic conditions, that too amidst a pandemic.
An officer on the field in charge of an anti-militancy operation usually takes the call on demolishing houses during an encounter. It is done to avoid casualties, as it avoids direct confrontation with the militants. Secondly, this repressive act metes out a collective punishment to the local populace who are seen as abettors and supporters of the militants.
What provides sanction to this gross human rights violation is the draconian AFSPA. Section 4(b) of the Act states, "In an area that is proclaimed as "disturbed", an officer of the armed forces has the power to destroy any arms dump, hide-outs, prepared or fortified position or shelter or training camp from which armed attacks are made by the armed volunteers or armed gangs or absconders wanted for any offence."
This applies even when the militant is less armed or unarmed.
There is no exact data on how many houses have been demolished during the last 30 years of the militancy, but some local estimates put the number in thousands. Along with other forms of repression, the destruction of houses is tragically one of the more integral parts of India's "counter-insurgency" in the restive erstwhile state. But it is something that mostly evades civil society and media attention, and hardly ever becomes a talking point. Beyond this silence lie tragedies of immense magnitude for the affected people.
Through harsh acts like these, the fundamental rights of people, especially those living in the rural hinterland, continue to be violated on a large scale. For the people, it leaves no sense of dignity intact, as the basic right to life comes under constant threat. And the repression seems unending. No week passes without any deaths reported, or without routine humiliation, and the siege continues to characterise the life of an ordinary rural Kashmiri.
South Kashmir is still under an unprecedented military siege; villages are being frequently cordoned and raided, almost on a daily basis now, and houses are being vandalised, properties are being ransacked and inmates including women, children and elders are being thrashed on the accusation of "sheltering" militants. The unaccountable and unbridled forces, mostly of the state and sometimes also non-state, are controlling the lives of hapless people in most of rural Kashmir. This makes it much clearer that the razing of houses during gunfights with militants, and then capturing the same on the camera, is totally deliberate and aimed at collectively punishing the dissenting population. It is also a way to tell them coercively—toe the state line or face consequences.
The state wants to let ordinary Kashmiris know the harsh consequences of "sheltering" and "supporting" militants. But the question is, this has been going on for the last three decades. Has the support for militancy dwindled because of this coercive calculus by the state? This particular act further angers and alienates an already hurt population or even those who prefer a relatively pacifist approach. In one such instance, a Kashmiri poet Ghulam Mohammad Bhat "Madhosh Balhami" lost 30 years of his work as his house was reduced to a rubble by the state forces during a gunfight with militants in Pampore. After seeing his house destroyed before his eyes, in which three militants were also killed, Balhami said:
"Jafa ke bijliyoon ne mera ashiyaan jala diya
Acha hua, rah-e-haq mein maine bi kuch gawa diya
Meri hi manzil ke woh musafiran-e-khaas thay
Azm mein Shabir thay, Owais thay, Hamas thay
Shaheed hogaye, mujhe bhi hoslaa khass diya."
[Oppressor's lightning burnt my house to ashes,
I am not sad for being part of the fight for truth
These fighters fought for that together
In passion, they were Shabir, Owais and Hamas (the militants),
They are martyred, but they raised a poet from his slumber.]
It is clear that this hugely unjust act of razing houses also engenders further aversion for the Indian state. And contrary to the state's "counter-insurgency" objectives, it does not deter people from dissenting. This destruction of property by state forces violates the property rights of citizens under the Indian law (Article 300-A of the Constitution of India), but is also a violation of international conventions guiding the conduct of the combatants in the conflict zones. It constitutes a gross human rights violation both under the national and international laws.
The Supreme Court of India in one of its recent decisions held that a "citizen's right to own property is not only a constitutional or statutory right, but also a human right," and that the state has no right to overtake or destroy it forcibly without following due procedure and authority of law. Internationally, Article 53 of the Fourth Geneva Convention states, "Any destruction by the [dominant military] power of real or personal property belonging individually or collectively to private persons is prohibited, except where such destruction is rendered absolutely necessary by military operations." Punitive destruction of houses for deterrence purposes is not related to a "military operation", is not absolutely necessary, and is therefore prohibited under international law.
The houses razed during encounters mostly belong to Kashmir's already-battered peasants and working classes. This often has a devastating impact on their lives. The government does not pay any compensation to the affected families, which is again illegal and unjust. Besides being someone's property; a house is also something with which people associate memories, history, and through which they identify their rootedness to a land. In a jiffy, the lives of these people change completely: they are suddenly rendered roofless and searching for shelter in the most terrible of circumstances. Their pathetic conditions living in temporary structures coupled with the loss of home often results in the affected family members being overcome by trauma, depression and dementia.
The razing of houses is especially devastating in instances where the affected family cannot afford alternative housing. For those who have nothing to do with the militancy or violence, the destruction of property amounts to a brutal and humiliating treatment. Even in instances where militants take shelter inside a house, the families caught between opposing guns face a very difficult choice. They cannot refuse entry to the militants and at the same time, they cannot make the forces protect their property if there is a gunfight.
A house is a space that covers the body and provides shelter and safety. It is always a strong symbol of one's personal and social identity and can be seen as an extension of a person's self. So any act of demolishing and destroying a home is analogous to a physical assault on the identity of a people.
The author is a blogger and writer based in Kashmir. The views are personal.