The India I grew up in has gone. These rapes show a damaged, divided nation
0 comments | by Anuradha Roy
These articles first appeared in the Guardian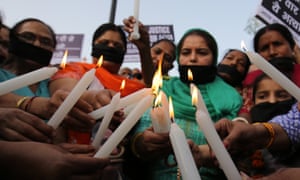 A chilling leitmotif of Nordic crime fiction is a child leaving home to play, never to return. Detectives search out trails pointing to sexual violence and murder, and by degrees it becomes clear that the crime is not isolated: it is the symptom of a damaged community. The abduction, gang-rape, and murder in India of eight-year-old Asifa Bano reveals such damage on a terrifying scale. It shows that the slow sectarian poison released into the country's bloodstream by its Hindu nationalists has reached full toxicity. Where government statistics say four rapes are reported across the country every hour, sexual assault is no longer news. Indian minds have been rearranged by the constant violence of their surroundings. Crimes against women, children and minority communities are normalised enough for only the most sensational to be reported. The reasons Asifa's ordeal has shaken a nation exhausted by brutality are four. The victim was a little girl. She was picked because she was Muslim. The murder was not the act of isolated deviants but allegedly of well-organised Hindu zealots. And the men who are accused of raping her included a retired government official and two serving police officers. When the police in Jammu (the Hindu-dominated part of Kashmir) tried to register a charge against the men they had arrested, a Hindu nationalist mob threatened the few honest policemen and lawyers who were trying to do their jobs. The was a mob with a difference: it included government ministers, lawyers and women waving the national flag in favour of the arrested men, as well as supporters of the two major Indian parties, Congress and the Bharatiya Janata party (BJP) – the party of Prime Minister Narendra Modi, who is in Britain this week to attend the Commonwealth heads of government meeting. Nationalism can be benign as well as malignant: Tagore foresaw the malignant variant a century ago. "Alien government in India is a chameleon," he wrote. "Today it comes in the guise of an Englishman … the next day, without abating a jot of its virulence, it may take the shape of our own countrymen." Given the right political conditions, virulent nationalism creeps into every bone, every thought process. When it leads to the calculated mutilation of a child, ethnic cleansing does not appear too far distant. If the world has understood fascism better through Anne Frank, its understanding of contemporary India will remain incomplete unless it recognises the political venom that killed Asifa.
Asifa belonged to a nomadic Muslim tribe that herds its cattle 300 miles twice a year in search of pasture. In January, when the snow lies deep in their alpine meadows, these shepherds walk down to Jammu. Here they graze their animals in the little land still available to them. Asifa went one evening to bring back grazing horses, and never returned. Recently filed police investigations conclude that a group of men imprisoned her for a week, drugged her, starved her, and took turns to rape her in a Hindu shrine. It was well organised. The hiding place was agreed, and sedatives kept at hand. The motive was to strike terror among the Muslim nomads and drive them from Rasana, a largely Hindu village. Tribal Muslims make up a negligible percentage of the local population, perhaps 8%. Even so, the Hindus there fear "demographic change", and have been fighting to drive them out. Absolute darkness begins imperceptibly, as gathering dusk. Reading of 1930s Vienna in Robert Seethaler's The Tobacconist some months ago, I began to feel an uneasy sense of familiarity. At first, only a few minor problems befall Seethaler's Jewish tobacconist. His antisemitic neighbour, a butcher, contrives through a series of petty offences to make life difficult. After each act of vandalism, the tobacconist replaces broken glass, swabs away entrails, opens his shop again. The vandalism is a feeble precursor of what is to come. Anschluss is a few months away and it requires little conjecture to know how the novel and its tobacconist end. Even as the details of Asifa's death emerged, another crime came to light, this time from Uttar Pradesh, India's most populous state, also ruled by the BJP. The father of a teenage girl wanted merely to lodge a report with the police that his daughter had been raped over several days by a legislator and his brother. The father was arrested and died soon after in custody. The thread that binds these crimes is the sense of invincibility that a majoritarian regime has granted its personnel and supporters. Manifestations of the newfound swagger include vandalising sprees after electoral victories, and the lynching of Muslims and Dalits (the lowest in the Hindu caste hierarchy). The general idea is to create a sense of terror and uncertainty, and in this the tacit support of the state pumps up the mobs – and they rampage with greater confidence. In swathes of rural north India, violating women to signal caste, religious and masculine supremacy is only an extension of such activity. The primeval divisions within Indian society have never been sharper. The BJP's ruthless drive to consolidate patriarchal Hinduism has pressurised women about what they can wear, families about what they can eat, and young people about who they may marry. Parties in the opposition, envying the electoral success of the BJP, tend to speak out against this culture of sectarian hatred after first sniffing which way the wind is blowing, then gauging how strongly it is blowing.In the India where I grew up, memories of Gandhi, Tagore and Nehru were strong; the necessity of secularism was drummed into us. We knew that our politicians were largely venal, but it was still a country in which morality and humanity mattered. Now, journalists and writers who speak up against the undeclared war on Dalits, Muslims, poor people and women are trolled by cyber-mobs. – if they're lucky. The most publicised murder last year was of a dissenting journalist shot dead outside her home in Bengaluru, in south India.
Modi, renowned as a demagogue, is coming to be even better known for what he chooses to stay silent about. Sympathy for the suffering individual, many have noticed, is not among his most distinctive traits. When the student Jyoti Singh "Nirbhaya" was raped and killed in Delhi in 2012, it took several days of massive public outrage to stir Sonia Gandhi and her ruling Congress party, from their mansions. In the aftermath of Asifa, the current prime minister, perhaps quicker off the blocks, took a mere three days after the details of the eight-year-old's killing were released to understand how much he stands to lose by saying nothing when the whole world is watching. The times are such that even so little so late from Modi has been seen as an acknowledgement, however reluctant, that India's constitution requires him to ensure justice and equality for all its many communities.
Anuradha Roy is an Indian author. Her third novel, Sleeping on Jupiter, was longlisted for the Man Booker prize and won the DSC prize for south Asian literature