Pakistan and Russia - Entering a new era of cooperation
0 comments | by Senator Sehar Kamran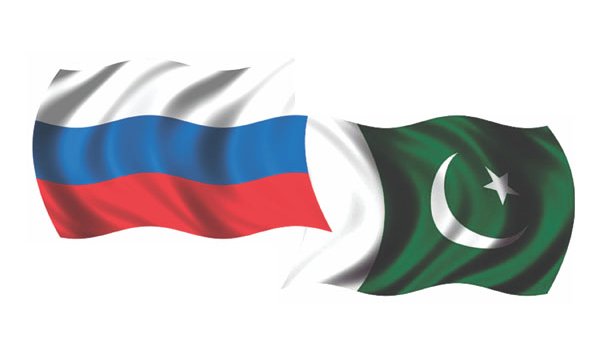 'Today, peace means the ascent from simple coexistence to cooperation and common creativity among countries and nations.'
Mikhail Gorbachev,
Former President of the USSR
2018 marks seventy years of diplomatic ties between Pakistan and the Russian Federation. On this propitious occasion, it is inspiring to see the progress that is being achieved in the bilateral cooperation and friendship between the two countries. Economic, political, and defense ties are growing; diplomats, experts, the diasporas and the business community within both countries are actively engaged in identifying opportunities and areas of mutual interest, for promoting bilateral cooperation. The strengthening relationship is a positive development for the two countries that have long shared physical vicinity, a strong cultural affinity, and a complicated but nonetheless highly interconnected past. Today, we are working through the complexities of our common history to strengthen a bond that is based on converging economic and strategic interests, in addition to the cultural commonalities and geographical proximity.
This transformation was long overdue, especially as Pakistan and the Russian Federation have much to offer one another. This is reflected in the many milestones that have already been achieved. For example, the Russia-Pakistan Inter-Governmental Commission on Trade, Economic, Scientific and Technical Cooperation, which was created to aid the development of mutual cooperation in the fields of trade and economy, science, technics and education, has been playing a constructive role. To date, five meetings have been held between the officials of the two countries - the last being held in November 2017, in Moscow, where both sides agreed to deepen cooperation on matters of mutual interest. As a result of these deliberate efforts, the volume of bilateral trade has seen an upward trend in the last few years. In 2016, it was reported to be $403 million, an increase from $331 million in 2015. Just last year the imports from Russia grew from $170 million to $258 million. The Pakistani exports to Russia also increased by 10 percent in three months, as reported in June 2017. While these statistics exhibit the positive upward trend in trade ties, the figures barely scrape the surface of the latent potential.
In the context of defense ties, these developments have been followed by the uplifting of the Russian arms embargo to Pakistan, through the defense cooperation agreement which was signed in 2014. The two consecutive joint military exercises in the last two years, "Druzhba-2016" (Pakistan) and "Druzhba-2017" (Russia) also depicts the growing confidence between Moscow and Islamabad. As our ties enter into this new era of prosperity, the potential for exponential growth becomes boundless. Among the many positives that Pakistan brings with it, the foremost is regional connectivity. Due to Pakistan's important geostrategic location, new doors of land and sea-based linkages across the entire region can be opened up and explored, which will not only bolster economic connectivity, but can tie the region together with new energy corridors. In this regard, Pakistan has already invited Russian Federation to join CASA-1000 Project. Furthermore, in 2017, the federal cabinet gave a go-ahead to the initiation of agreement with Russia for the construction of 600MW Natural Gas Combined Cycle (NGCC) power plant in Jamshoro, Sindh. Pakistan and the Russian Federation are also in consultations to resolve all open issues related to execution of sole liquefied natural gas (LNG) pipeline project, worth $2 billion and 1,100 km 'North-South Pipeline Project' with a capacity of about 12 billion cubic meters of gas that will transport gas from Karachi (Sindh) to Lahore (Punjab), and help reduce shortage of gas in the country.
The China Pakistan Economic Corridor (CPEC) is another avenue for the enhancement of this connectivity in this regard. Russia has already voiced its support for the project, terming it to be crucial for Pakistan's economy and regional connectivity. As Russia is also working on a similar Eurasian Economic Union, along the lines of China's Silk Road, as the Russian Envoy to Islamabad, Alexey Dedov stated in December 2016, it would greatly strengthen the regional connectivity if the two projects are merged, or if Russia officially joins the CPEC.
Similarly, for Pakistan, stronger ties with Russia translate into economic growth and greater cooperation on issues of vital national importance to the country, such as regional security and stability, the growing menace of terrorism in the region, access to Russian military equipment market, and cooperation in sectors varying from energy to agriculture. Both countries have expressed their willingness to sign a 'Free Trade Agreement' to further strengthen the bilateral relationship. Pakistan has also reiterated its desire to buy military helicopters and defence equipment from Russia, with regard to which the two sides are currently engaged in negotiations. Islamabad and Moscow also share a goal of establishing peace in the region, especially Afghanistan. Russia has time and again highlighted Pakistan's role and insisted that Islamabad is "a key regional player to negotiate with". Recently, Russian Presidential Envoy to Afghanistan Zamir Kabulov stated that "putting pressure [on Pakistan] may seriously destabilize the region-wide security situation and result in negative consequences for Afghanistan," following US President Trump's Afghanistan policy. Thus far, Russia has hosted three regional talks on Afghanistan with the first held in December 2016, including only China and Pakistan. It is important to understand that Pakistan and Russia are important stakeholders where peace in Afghanistan is concerned, and both have time and again reiterated their support for peace talks.
In an era of shifting geopolitical interests and realignments, the importance of building upon the existing foundation of relations to take them forward is understood by both Islamabad and Moscow. Our bilateral relations have often been the victim of unsystematic foreign policy decisions and patchy fixes, as a consequence of which there has been little to no stability and very little progress.
While there has always been a great potential to benefit from, unfortunately it has never materialized as effectively as it could have. However, it is being realized that the policy of holding our bilateral relations hostage to the interests of other partners is no longer sustainable. The time is ripe for Pakistan to resolve the inconsistency in its foreign policy decisions related to the Russian Federation, and to identify and pursue a singular, coherent idea of what the future of our relations should look like.
Despite a tumultuous past, it is reassuring to witness that following the 9/11 attacks and the US led war in Afghanistan, the two countries have seen significant positive growth in bilateral relations. The cooperation which was previously limited is now gradually increasing and witnessing growth in almost every sector. As the interests of Pakistan and Russia increasingly converge on matters of significant regional importance, we now must work towards enhancing cooperation in diverse fields and increase diplomatic exchanges and people-to-people relations which will lead to a new dawn of reconciliation, and provide an opportunity to shed past baggage.
Foreign Policy is always a manifestation of geopolitical realities, domestic sentiments, convergence of interests, and historical and cultural ties. Pakistan and Russia's relationship is an expression of this phenomena, and full of great possibilities for growth and progress. Moving forward, only a proactive approach will yield substantive results. The institutionalization of relations in this regard is a welcome sight. With the signing of new memorandums of understanding and creation of inter-governmental commissions to oversee the pace and growth in different sectors, it is hoped that the initiatives will be materialized and the upcoming years will see an increased collaboration. The future prosperity of our region lies in greater regional connectivity – indigenous resolutions to indigenous issues.
As we celebrate the 70th anniversary of bilateral relations that are strengthening with every passing year, let us also reiterate our commitment to ensuring the sustainability of these ameliorating ties, and to taking a proactive approach towards securing the relationships that will truly turn this into the Asian century – bringing peace, prosperity and stability to the region and beyond. In this context, the landslide success of President Vladimir Putin in his recent reelection as President of the Russian Federation speaks volumes, not only in terms of how far the people of Russia stand behind the policies of President Putin that have led to the resurgence of Russia at the international level, but also the dawn of the new era of friendships with the Federation. The continuity and stability promised by President Putin's very welcome electoral success, particularly in the context of his 'Look East Policy', will help usher in the anticipated era of regional development, connectivity and progress in Asia. Let us also remember then that we are strongest when we stand together. The writer is the President of Centre for Pakistan and Gulf Studies (CPGS) and Member Senate Standing Committees on Defence, Defence Production, Human Rights & Federal Education and Professional Trainings. This transformation was long overdue, especially as Pakistan and the Russian Federation have much to offer one another.